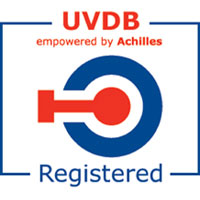 Black Box Network Services (UK) is celebrating its recent accreditation by UVDB (Utilities Vendor Database), the industry standard assessment run by Achilles on behalf of utilities, suppliers and contractors.
Black Box Network Services is a leading communications system integrator dedicated to designing, sourcing, implementing, and maintaining your network. They provide end to end communications and infrastructure solutions with an extensive portfolio of specialty networking, KVM, and AV products to meet demands across all sectors. Utility companies looking to place contracts with a high emphasis on Networking and Technology Solutions complete with the relevant industry qualifications need look no further. According to the rigorous criteria in the UVDB 'Verify' process, Black Box is performing within the industry standard.
Leslie Fernandes, Managing Director of (Black Box UK) said,
"This is great news for our existing and potential clients. Every buyer in the utilities sector can see we have met, and in many cases exceeded the industry targets on important issues like environmental controls, health and safety procedures and quality management."
Michelle Guilfoyle, Utilities Sector Account Manager (Black Box UK) added,
"When clients are looking for an established major player in Network and IT solutions, we can now demonstrate top credentials backed up by customer testimonials. This gives us real weight in the marketplace."
UVDB is recognised as the standard for supplier pre-qualification within the Utilities Sector.