Reading. September, 2017 - Black Box Network Services, a world-leading technology solutions provider, today announced that they have been awarded NSI NACOSS Gold Approval in the U.K.
NACOSS, the National Approval Council for Security Systems, is the independent regulatory and certification body responsible for the approval of service providers involved in the installation and maintenance of security systems
Gold Approval is only awarded to companies who have demonstrated the highest level of integrity, professionalism and competence in the installation of electronic security systems, and who have incorporated their processes into their quality management system.
The award means that Black Box has been certified to provide design, installation and maintenance services for access control, CCTV and intruder alarm systems in accordance with British and European standards. These services must meet the requirements of police, fire and rescue services, as well as the insurance industry.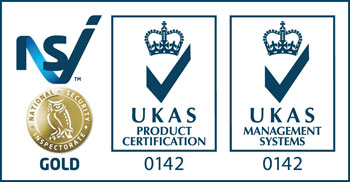 "Technological developments have led to a greater involvement of IT in the security industry. Security systems are increasingly making use of IP, Wi-Fi, 4K and HD technologies. Therefore, achieving NSI NACOSS Gold Approval was a natural progression in Black Box's growth plan," said Brendan Tobin, Black Box vice principal of international operations. "It demonstrates our commitment to current and potential customers that we are determined to operate at the highest standards in the industry."
Black Box was independently verified by the National Security Inspectorate (NSI), a leading certification body for the security and fire protection sectors in the U.K. Accreditation involved a rigorous inspection and audit process. On-going approval requires continued compliance to NSI criteria and regulations applicable to the NACOSS scheme.
Black Box is a leading technology solutions provider dedicated to helping customers build, manage, optimise and secure their IT infrastructure. Black Box delivers high-value products and services through their global presence and approximately 3,500 team members. They serve more than 175,000 clients in 150 countries around the world.
The National Security Inspectorate is a non-profit organisation that provides inspection services for the security, fire and facilities management industries. Businesses and homeowners who choose NSI-approved companies have the reassurance that their chosen contractor will work to the industry standards of police, fire and rescue services, as well as the insurance industry. Learn more at www.nsi.org.uk.
Investor Relation Inquiries:
David Russo, SVP & CFO
Tel.: +1 724 873-6788
Black Box contact:
Gail McKenna
Tel.: +44 28 9442 8325
Email: gail.mckenna@blackbox.com