High performance KVM on the high sea - fully compliant to IEC-60945 specification
At the high seas, crew, machinery, and IT equipment are exposed to harsh conditions including extended temperature ranges, humidity and vibrations. Therefore it is imperative to have all systems designed to work together reliably and guarantee safety to man and machine at all time. This applies also to KVM equipment aboard vessels and offshore platforms. The DKM KVM Matrix switching system and the 4site flex KVM Multiviewer are fully compliant with the IEC 60945 major accreditation which allows the implementation alongside maritime navigation and radio communication equipment and systems. This makes them ideal solutions for several naval applications that entail monitoring and control of critical processes and data.
Applications
---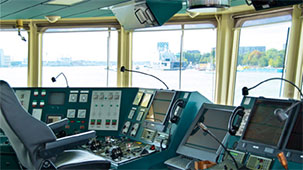 Ship Bridges
Overcome distances from technical equipment rooms to bridges. Get full an instantaneuos control of video and peripheral signals and connect your PCs and equipment throughout the whole vessel.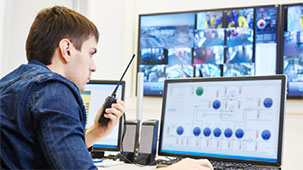 Control Rooms
Reliable monitoring and control of systems. Bring all relevant data to a central control room and switch between multiple systems and users, e.g. in Vessel Traffic Services (VTS).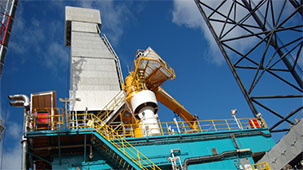 Offshore Platforms
Video and peripheral control of various systems that allow reliable monitoring and instantaneous control of processes on offshore platforms.
Maritime KVM Solutions
---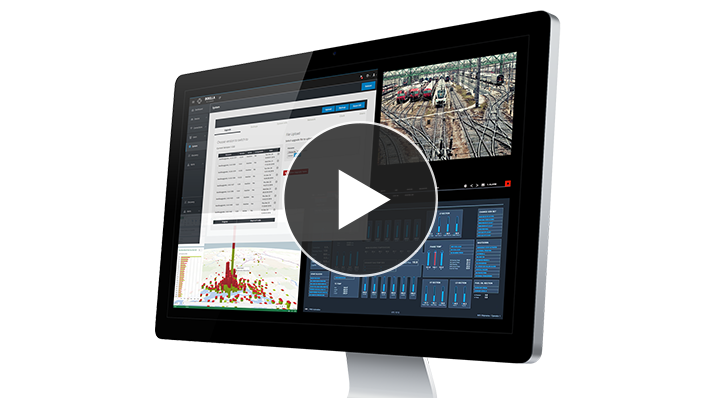 4Site flex: KVM Multiviewer
The 4Site flex simultaneously displays four analogue or digital computers and video sources on a single screen in real time with smooth video performance at full refresh rates without frame dropping. Each input video can be resized and repositioned anywhere on the display. Computer sources can be controlled with just one keyboard and mouse or by touch screen.
DKM: High Performance KVM Switching & Extension
The DKM ensures a quiet work environment for users through proprietary extension of KVM and peripheral signals including audio, USB, PS/2 and serial data signals, as well as HDMI, DisplayPort and DVI. Additionally, the scalable, highly reliable, and flexible system enables multiuser access in real-time for viewing and editing. The system can be scaled from a few to a few thousand user workstations.

Designed to Meet the Harshest Maritime Conditions
---
Since most equipment used on vessels at sea must undergo a compliance process designed to ensure that it is able to survive the ocean's harsh environment like shock and vibration specifications, the IEC-60945 specification entails rigorous testing regarding this environment (heat, cold, vibration), security and electromagnetic compatibility (EMC), meeting international standard:
Environmental
Dry heat
+55°C / 131°F, operational test
Damp heat
+40°C / 104°F @ 93% relative humidity, operational test
Low temperature
-15°C / 5°F operational test
Vibration
2Hz-100Hz, operational test to simulate propeller vibration and wave slamming
Corrosion
Salt mist exposure, non-operational, 28 day total test
Acoustic noise
60dBA @ 1m to measure noise levels that may disturb bridge operations
Safety
Protection against accidental access to dangerous voltages
Limited access to high voltages within the chassis
EMC
Radiated emissions
Electromagnetic radiation from the chassis or cables that may interfere with other devices nearby
Conducted emissions
Electrical noise conducted from the chassis on power cables that may interfere with equipment connected to the same power supply
Radiated susceptibility
Immunity to electromagnetic radiation from other devices
Conducted susceptibility
Immunity to electrical noise on power lines
Electrostatic discharge
Immunity to 6000 Volt contact discharge and 8000 Volt air discharge
Compass safe distance
Magnetic field radiation that may interfere with compass operations
Additional Resources
---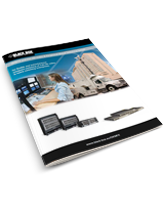 DKM Brochure
Download Brochure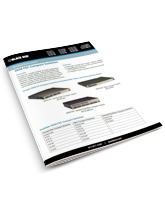 DKM Datasheet
Download Datasheet
4Site flex Datasheet
Download Datasheet