The H.264 video compression standard , also known as MPEG-4 Part 10, Advanced Video Coding, MPEG-4 AVC or AVC video, is an industry standard for video compression that is one of the most frequently used video formats nowadays.
H.264 touches every aspect of our digital lives and the popularity of H.264 continues to grow. You see this codec for example with HD DVDs, HDTV, pay-TV or YouTube videos. And H.264 isn't just limited to consumer electronics. It's also pervasive in business.
It's estimated that by 2025, most conventional video distribution solutions using HDBaseT or other proprietary transmission methods will be replaced by more flexible IP-based systems, as the popularity of H.264 continues to grow.
What is H.264?
H.264 or MPEG-4 AVC (Advanced Video Coding) is a video coding format for recording and distributing full HD video and audio. It was developed and maintained by the ITU-T Video Coding Experts Group (VCEG) with the ISO/IEC JTC1 Moving Picture Experts Group (MPEG).
Commonly used for the recording, compression, and distribution of video content, the H.264 format is a network-friendly video transmission method that delivers high-quality images without being a bandwidth hog.
Encoding and Decoding H.264
H.264 works by encoding (converting) HDMI (HD) audio and video signals into an IP stream that can be transmitted over an IP network. On the other end, a decoder converts the signals back to an uncompressed HDMI format. What makes H.264 so versatile is that you can stream video from an encoder to multiple decoders simultaneously. For instance, you can stream one set of video signals to a display, a video wall and a digital signage system all at the same time. Find out more about our HDMI over IP Distribution solution.
H.264 applications - When and Where to use ?
The H.264 video compression format is perfect for AV distribution to one or more video sources (multicasting streams for many displays). Its use can be specially adequate for long-distance transmission of signals using existing wires and infrastructure. It is fast becoming the standard video compression format for the video surveillance world, for example.
It applications can range from outside broadcast (OB vans), energy sector, education, transportation drone video recording for environmental monitoring use as well as Video Wall Processing, Digital Signage Solutions and video conferencing.
H.264 Encoding and Decoding applications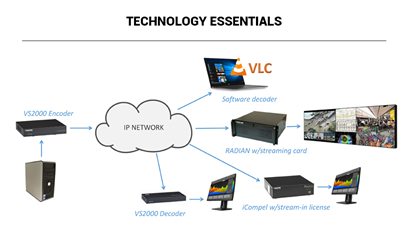 H.265 vs H.264
H.265, the younger sibling of H.264, is a format also known as High Efficiency Video Coding (HEVC) and MPEG-H Part 2. Compared to H.264, H.265 offers up to twice the data compression with the same level of video quality. It is designed to support future resolutions up to 8K UHD (8192x4320) compared to the 4K (4092x2160) that the H.264 supports. Some newer equipment such as TV's are starting to ship with a built in hardware decoder to play H.265 content, but the improved quality and reduced bandwidth comes at a cost. H.265 encoding and decoding requires much more processing power over H.264 so the cost of H.265 solutions are still significantly higher.
H.264 vs MPEG-2
Compared to MPEG-2, H.264 has:
Better remote viewing quality at the same compressed bit rate than MPEG-2
30-50% lower bitrate
uses up to 50 percent less bandwidth
H.264 is more adequate for broadcast-oriented technology
Benefits of using H.264 Encoders and Decoders
Low bandwidth usage and higher resolution monitoring.
H.264 was created to provide high-quality transmission of full-motion video with lower bandwidth requirements and lower latency traditional video standards, such as MPEG-2. H.264 uses a very efficient codec that provides high-quality images and uses a minimal amount of bandwidth.
H.264 bitrate is lower than other formats
H.264 has an 80% lower bitrate than Motion JPEG video. It's estimated the bitrate savings can be as much as 50% or more compared to MPEG-2. For example, H.264 can provide a better image quality at the same compressed bit rate. At a lower bit rate, it provides the same image quality.
Reduced demands for video storage
H.264 uses significantly less storage to store video compared to other standards which proves to be essential to allow easy video transmission through IP
Vendor agnostic video extension solution
Because H.264 video is standards-based, it provides a vendor agnostic video extension solution. Users can mix and match H.264 equipment from different vendors without worry of any compatibility or proprietary issues.
To find out how you can easily implement a H.264 cost-effective, scalable video extension solution, take a look at Black Box's VS-2000 H.264 Encoder and Decoder product pages below.
Subscribe our Newsletter

In order to find out more about all upcoming Black Box developments around audio/video please
subscribe to our newsletter
Related Products