20%
Above £1275

Promotion Code: SPECIAL20

15%
£425 to £1275

Promotion Code: SPECIAL15


10%
Up to £425

Promotion Code: SPECIAL10

---
---
How to use your promotion code?
Add the promotion code - SPECIAL10, SPECIAL15, or SPECIAL20, depending on the order value - to your order or enter the promotion code during the ordering process in our webshop as shown below.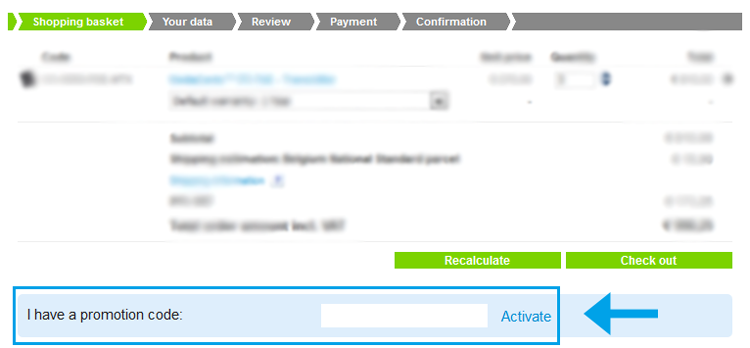 ---
* All orders must be completed by March 24, 2017, at 11:59 P.M. CET to receive these offers. Offers cannot be combined with any other offers, coupons, or discounts. If there is already a frame agreement, the total discount will be capped at 30%. Discount offers are valid only in the European Union. All qualifying merchandise totals are calculated prior to shipping and sales tax charge. All offers are good for Black Box brand products only. Orders must be placed either by calling the local European offices or through the European Black Box online stores as specified below. Black Box reserves the right to change or discontinue these promotions without notice. Offers do not apply to previous purchases.