Our Commitment - We are an organisation of top technical professionals dedicated to delivering personalised support to help you evaluate your technology options and implement the right communications, infrastructure, and products to achieve your objectives.

History - What started as a technology products catalogue company has grown to a $1 billion communications and infrastructure services provider.



Catalogue - The company began selling connectivity devices - the "little black boxes" - that customers needed to connect their primary communications products. The company was originally called Expandor, Inc., but it soon changed to Black Box because customers came to know the company after its catalogue name.


| | |
| --- | --- |
| | |
| First catalogue 1977 | Catalogue 2011 |
When the first Black Box Catalogue rolled off the presses in early 1977, it had just 18 pages. Today the Black Box Catalogue - an enormous 700+ page book - features more than 10,000 networking & datacommunication solutions and has multiple international versions published.
Headquarters - Headquartered in Lawrence, Pennsylvania, Black Box Network Services has the largest footprint in the industry, with approximately 200 offices serving approximately 150 countries. With more than 4,500 Team Members worldwide, we serve more than 175,000 clients in every major industry sector.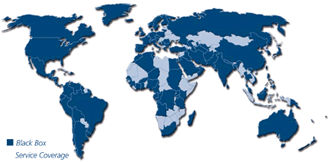 Worldwide revenues - At Black Box Corporation (NASDAQ:BBOX), worldwide revenues exceed $1 billion. We regularly update our Investor information.